---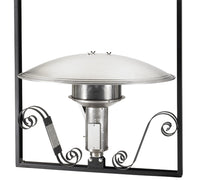 Sale
The Sunglo model A244 suspended heater frees your deck by supporting heaters from above. The distinctive frame works well in a variety of decors. Optional automatic control systems make these heaters easy to operate even though they may be out of easy reach. Heat coverage varies depending on the wind exposure on patio. The average spacing between these heaters is 12 feet.
This heater is available with a variety of control systems. Each control system is equipped with 100% safety shutoff. The A244 is a manual heater requiring no electrical hookup. The A244-V with solenoid gas valve allows the heater to be turned OFF/ON at the turn of a switch. The A244-E offers a completely automated ignition system. Both the A244-V andA244-E requires an external 24 VAC source.
This heater offers a large deep aluminum disk reflector for maximum comfort, a primary aerated burner to minimize noise, and 100% safety shutoff. The wrought iron frame with classic metal scroll design comes in a black powder coat finish.
Model A244 features: 
50,000 BTU
The Sunglo A244 heater requires no electrical connection and is easy to service and maintain
It utilizes a pilot-thermocouple 100% safety shutoff
The pilot must be manually lit
The heater is turned off/on with a manual control knob located at front of the heater
Made in USA
Sunglo Heater A244 Technical Sheet

Patio Heaters for All Occasions
Don't let the sun going down or an unexpected weather change negatively affect your outdoor dining and event. With a Sunglo outdoor heater you can comfortably and efficiently warm your outdoor dining and entertaining areas. Sunglo outdoor patio heaters are produced by Infrared Dynamics, one of the most recognized leaders in the outdoor comfort heating business. 
For over 30 years Sunglo products have developed quality and feature customers have come to expect.
Sunglo heaters work utilizing radiant heat
to warm people and objects without having to heat the surrounding air. Radiant heat quietly provides outdoor warmth by utilizing a deep dish reflector on the patio heater, to send heat over a large area so all can enjoy it. Sunglo's patio heaters are specially designed to stay lit even in a light breeze. Through the use of infrared heat, the air temperature does not need to build up before you feel the warmth of the emerging Sunglo patio heater. Infrared heat passes through the air heating people and all solid objects.
Heater Installation:

Sunglo Heaters are intended to be installed by qualified personnel specifically trained and experienced in the installation of this type of heater and related system components. Some states or provinces require installation and service personnel to be licensed. If you state or province is such, be sure your contractor bears the appropriate license. Persons not qualified shall not attempt to install or repair this heater.
For Outdoor Use Only:
Sunglo heaters are designed for outside use only. They are not for use in residential dwelling or other confined areas. Semi-enclosed patio are permissible provided they have adequate permanent openings around the patio periphery and meet the requirements for outdoors as defined in the installation instructions.
Clearance from Combustible Materials:
Sunglo heaters all require a minimum distance from walls and ceilings. This is an important consideration before you purchase.  Refer to instructions for details
Ventilation:
Sunpak Heaters require adequate combustion air and ventilation to operate safely and efficiently. This requires openings above and below the level of the heater. Refer to the heater instructions for more detail.
Gas Pressure:
Sunglo Heaters require a minimum inlet pressure of 6″ water column for natural gas and 11″ water column for propane gas. Gas pressure should never exceed 1/2 PSI or 14″ water column. For gas pressures exceeding 1/2 PSI a high-pressure regulator is required before the gas enters the heater.
Pipe Sizing:

The inlet pipe size to the heater is 1/2 inch.  Larger pipe sizes maybe required depending on the distance from the gas meter and the total load capacity required for other gas appliances on the gas line.  Details regarding pipe sizing can be found in the Uniform Plumbing Code.
Agency Certification:

Sunglo heaters are design certified by the CSA under the ANSI Z83.19 standard
Heater Gas Conversion:
The factory does not support converting heaters to different gases. Each heater has been setup and tested for a specific gas type.  Please make sure you select the correct gas type, Natural or Propane gas, before making your purchase.
Clearance around the heater must be maintained: