---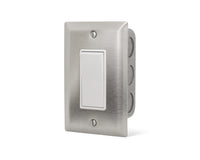 Infratech Single On/Off Switch
This simple On/Off switch can be used to control your W Series heater. This switch comes with a stainless steel faceplate and gang box. Infratech's On/Off Switches are user-friendly and compatible with almost any budget.
Custom Heating Control
Infratech provides a variety of heating control options. You may choose different configurations, including In-Wall or Surface Mount install, as well as with or without weatherproof covers. The simple on/off switches are designed for use with all single element heaters. 
These switches are a low-cost control option for all single element heaters with a range of 120/277 VAC (20 amps max per switch).
#14-4400 Dimensions and features:

Gang Box: 4" h x 2-1/8" w x 1-7/8" d
SS Plate: 4-7/8" h x 3-1/8" w
Range: 120/277 VAC
Recommended not to exceed:
208/220 VAC = 3000 Watts Max per Switch
240/277 VAC = 4000 Watts Max per Switch
20 Amps Max
Made in the USA
3 Year Warranty
Complex Controls Made Simple

With Infratech technology, you can now enjoy climate-controlled comfort in any residential or commercial setting. When purchasing an Infratech heater, you are provided a wide range of versatile control options that can help you get optimal convenience, performance, and value out of your heating system.