---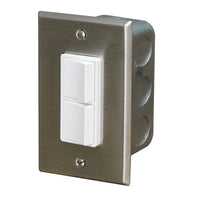 WD Heater Duplex Switch
This duplex/stack switch can be used to control your WD Series heater easily and independently. It features high / low / on / off settings. This switch comes with a stainless steel faceplate and gang box for in-wall indoor or protected outdoor area installs.
Custom Heating Control
Infratech's Duplex Stack Switches are user-friendly and compatible with almost any budget. Infratech provides a variety of heating control options. You may choose different configurations, including In-Wall or Surface Mount installs, as well as with or without weatherproof covers. 
Indoor & Outdoor Heating
These Duplex Switches are designed for use with WD-Series dual element heaters and provide a low-cost control option for all dual element heaters. These custom controls give you the ability to turn on and off each element independently, providing effectively half power/full power capabilities.
#14-4300 Dimensions and features:
Gang Box: 4" h x 2-1/8" w x 1-7/8" d
SS Plate: 4-7/8" h x 3-1/8" w
Two Single Pole Single Throw (DPST) Switches
Range: 120/277 VAC
Recommended not to exceed:
208/220 VAC = 3000 Watts Max per Switch
240/277 VAC = 4000 Watt Max per Switch
20 Amps Max per Pole
Made in the USA
3 Year Warranty
Value Controls
From Simple On/Off Switches to Duplex Stack Switches to INF Input Regulators, Infratech offers an assortment of value controls, to help you enjoy the efficient ease of use that's compatible with any budget. All assemblies are available in different configurations, including In-Wall or Surface Mount options, with or without weatherproof covers.